Weed Management Services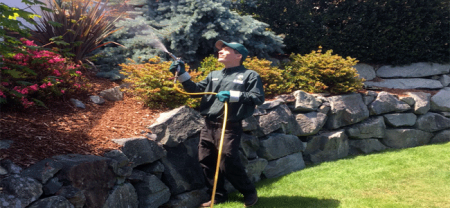 There are many reasons to take care of your landscape. From the simple beauty of a healthy, well-maintained landscape to basic financial sense of the added value to your home that is provided by that same beautiful landscape.
All Seasons Pest Control has been providing landscape care services for over 35 years in Pierce County. From insect and disease control on your trees and shrubs to crane fly control on your lawn to weed control on your lawn and gravel driveway and in your garden beds.
While a successful tree & shrub care spraying program can help with the general control of insects, mites, and fungus in your landscape, a timely weed control program can help keep your lawn, garden beds, and gravel paths and driveways free of unwanted weeds and other vegetation.
Learn more about the many ways we can customize and personalize your landscaping & weed management. Just as no two weed species are handled the same, no two yards have the exact same weed management issues. Our specialized team at All Seasons Pest Control can assist you in identifying and preventing unwanted weeds.
Our Weed Management Division Can:
Identify the specific weed problems desired to be controlled
Whether or not the weed needs to be controlled
Consider the life cycle, behavior, and/or biology of these weeds to determine the optimal time of year to incorporate chemical control
Proper and careful product selection
Careful yet thorough product application for complete coverage while protecting neighboring vegetation
Recommend continuing programs to maintain a weed-free landscape
We at All Seasons Pest Control, also offer the control of noxious weeds (tansy ragwort, poison hemlock, blackberries, scotch broom, etc.) and provide general vegetation control for industrial settings and community roadsides.
Call today to have one of our staff come out and provide you an estimate for your weed control needs.
Preventing the Spread of Weeds
An essential part of weed management is preventing further spread. Effective prevention through home remedy include the following steps:
Using weed-free mulches
Removing weeds that have yet to form seed heads
Applying only certified weed-free seed
Effectively applying EPA registered post-emergent and pre-emergent weed control product
Without prevention, weed management will be an ongoing battle. Weeds can easily travel from one area to another, within your yard and between your yard and other areas of your community. Some weed seeds travel by air, while others cling to tires, shoes, and animals to be transported to a new area.
At All Seasons Pest Control, we take weed management and prevention seriously. Prevention is a critical step to ensuring your yard stays weed free after we leave.
Herbicide Controls
Herbicides can be designed to target specific weed species, or more generally control weeds of all types. When professionally and effectively applied, herbicides can safely solve your weed management issues without introducing health hazards in your yard. Ask our team about your herbicide options for weed control and prevention.
All Seasons Pest Control eliminates and prevents a variety of weeds such as Garden Bed, Broad Leaf (Lawn-Weed), and Noxious weeds.
Chemical controls need to be applied during specific times of the year. Introducing herbicides during an incorrect stage in the life cycle of weeds can be ineffective.
Get In Touch Today
Ready to schedule our services? Call (253) 535-5600 to get started. We offer a 15% discount for all our new customers, so call today to ask us about our pest control services. All Seasons Pest Control can inspect your weed situation to determine the ideal control type and schedule for safe and effective weed management. Contact us today!